News from our group
New apprentice
Welcome Selina
Selina Gausch joined our team as a laboratory technician apprentice on September 1st. We wish her all the best for the next 3,5 years!
On Sep. 27th 2021 Birgit Ömer joined our group as only the second teaching student ever (Lehramt Chemie) to do her Master thesis project. She joined Team Rhenium and will tackle some older standing problems in our oxidorhenium(V) chemistry under supervison of Jörg. We wish her all the best for her journey deep into the coordination chemistry of Rhenium.
Two new Master students
Antonia and David join the group
With the end of February and beginning of March 2021 we could welcome two new Master students to the group. Antonia Reisenhofer will work with Fabian on our novel Mn-chemistry. And David Köpfler joins Jörg in the Re-chemistry project. We wish both Antonia and David a lot of success and patience with their projects.
Tanja passes her final exam
In the last week of February 2021 Tanja Scheer passed her final exams with distinction. After 3.5 years with us, she is now a fully educated lab technician. We wish her all the best for the next steps in her professional career.
Also in corona year 2020 three students joined our group to do their Bachelor thesis projects. Those were Antonio Paligoric, Christa Hofer and Patrick Wind. We thank them for all the hard work and cake contributions. Christa and Patrick also proofed durability at our little hike at the Vitalwanderweg.
Dado starts his PhD thesis
Almost a year after starting his Master thesis with us, Dado re-joins the group on Dec 7th 2020 as our new PhD student. Besides moving up to the 4th floor he will also switch the topic and take care of our ongoing scorpionate chemistry. Welcome back Dado!
Hiking in southern Styria
Through the vineyards to a Brettljause
Just before the winter term started again we used the nice weather to go for a little (!!!) hiking tour through the vineyards of the Südsteiermark. At the end we treated ourselves with some delicious Sturm and a replenishing Brettljause.
On Aug. 3rd 2020 Elke Huber joined the group again after already doing her Bachelor thesis with us to start her Master thesis project. Also her project is a continuation of her BSc. project as Elke will continue to work on our zinc scorpionate chemistry. We are all very happy to welcome her back.
Also this year, we took the occasion of Faschingdienstag or Mardi Gras as an opportunity for a highly scientific Krapfen tasting. Therefore, Krapfen from 11 different commercial vendors were purchased, and after an hour of concentrated sampling, the winners were found:
1. Kern
2. Edegger-Tax
3. Billa
On Feb. 3rd 2020 Pasi Salonen, a PhD student from our collaborator Prof. Ari Lehtonen from the University of Turku, joined our group for two months as a visiting student. Here, we will further explore some of Pasi's puzzling Mo chemistry. Besides being an expert in thermal oven synthesis and quantitative crystallization, Pasi also teaches us a lot about the wonders of the Finnish language, and the real every-day life in Finland
In the year 2019 we had three students doing their bachelor projects with our group. Those were Florian de Pauli, Kristin Kogler and Niklas Stix. We thank them for their hard work and enjoyed the time together.
The group keeps growing. We are happy that on Dec. 3rd 2019 Dado Rodic joined our group to do his Master thesis with us. He will join the Mo project and work on some homogeneous catalysis with frustrated Lewis pairs.
On Nov 11th 2019, a week after Miljan and Angela joined our group, our former BSc-student Lorenz Steiner returned to us to start his PhD thesis. Lorenz will also work with Tungsten on our ongoing Acetylene Hydratase project. All the best for the next three years!
New PhD students Angela and Miljan
With Nov. 4th 2019, we could welcome two new coworkers to the group. One of them, Miljan Corovic, joins us again. Miljan had already stayed with us for 6 months over spring and summer of 2017 while working for his MSc thesis at the University of Belgrade, Faculty of Chemistry. He now re-joined the group to obtain a PhD and will join our ongoing W investigations.
Our second new group member is Angela Milinkovic. She obtained her MSc here at KFU and will be involved in teaching as well as continue our Mo projects. All the best to both of you for the coming years!
On Oct. 2nd 2019, Anna Lehrhofer re-joined the group to start her master thesis with us. After already doing an excellent job for her Bachelor thesis with us, we also wish her all the best for her master project. She will look into our Ni-scorpionate chemistry.
Group expedition Lurgrotte
This year's group event took us shortly before the start of the winter term 20 min north of Graz to Peggau. There we had a guided Tour of the Lurgrotte, one of the largest karst caves in the Eastern Alps. After a good 3 h in absolute darkness at a constant temperature of 10 °C, we headed back to Graz to end the day at a local Buschenschank.
MoTEC 2019
Carina wins poster prize
The 9th "Molybdenum and Tungesten Enzymes Conference" (MoTEC) was held this year in Potsdam, Germany from 7th to 12th of July. Our head of group Nadia went together with Carina and Madeleine to present our most recent findings on the W enzyme acetylene hydratase. And we are very happy to report that Carina won the Nature Catalysis prize for her poster. Well done, Carina!
As Nathalie is currently on maternity leave, we welcome her replacement Elisabeth Peßl, who joined our group on May 2nd 2019. We wish Nathalie all the best for her new family life and Elisabeth for her start in the group.
On April 4th, 2019 Riccardo Bondi joined the group to start his PhD thesis. He comes directly form the University of Pisa, Italy, where obtained his MSc. He will now join our ongoing research project on W chemistry.
On Mar. 4th 2019, Sebastian Rücker joined the group to start his Master thesis. This is a premiere for us, as Sebastian is the first teaching student to do a master thesis with us. He will further investigate the chemistry of our thiopyridazine ligands.
Also this year we had a group of hard working students doing their Bachelor project with us. Those were Wolfgang, Anna, Johannes, Alina, David, Gernot, Dean, Aleksander and Johannes. Beside putting in their valuable time and effort, the group also got to enjoy some delicious cakes, and the bravest ones even joined us in the Kleeblattlauf.
New Master students and apprentice
On Aug. 27th 2018, Karin Ratzenböck joined our group working on her master thesis. She will continue on Mike's Zn chemistry.
A week later, on Sep. 3rd, our new lab apprentice Lara Purkathofer had her first day on the job.
On Oct. 1st Fabian Wiedemaier, our second new master student joined the group. He will advance the Rhenium chemistry. We wish all of them a good and successful time in our group.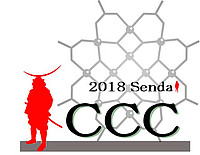 Also this year the group members did some travelling. In August Mike, Niklas and Jörg joined our boss on a long distance trip to Sendai, Japan, for the International Conference on Coordination Chemistry (ICCC 2018). In September then, Jörg represented the group at the 7th EuCheMS Conference on Nitrogen Ligands in Lisbon, Portugal.
New PhD student Madeleine
On Jan. 8th, Madeleine Ehweiner re-joined our group as our newest PhD student. She will keep working with acetylene, but switch the metal to Molybdenum. Let's see what happens.
On Friday, Sep. 29th, Madeleine successfuly defended her Master Thesis. She was examined by her supervisor Prof. N. C. Mösch-Zanetti and Prof. R. Breinbauer from TU. Prof. F. Belaj was presiding over the commitee. Congratulations Madeleine!
On Sep. 4th 2017 Tanja Scheer began her apprenticeship in our group. We are happy to have her here and wish her all the best for the next 3.5 years. On the same day Isabel Fuchs also returned to take over the reign again at the office after her baby break. Welcome back Isabel!
Michi starts his MSc. thesis
On July 3rd 2017 Michael Buchsteiner rejoined the group and started working on his MSc. project. He will stay on our W project and work together with Carina and Madeleine.
This year we did a bit of trevelling to international conferences. Niklas started the conference season by attending the Gordon Research Conference on "Inorganic Reaction Mechanisms" in March in Galveston, Texas.
Shortly thereafter Stefan took off for the ACS Spring Meeting in San Francisco, California.
In July, Jörg and Mike followed by attending the 4th EuCheMS Inorganic Chemistry Conference EICC-4 in Copenhagen, Denmark.
And finally, Niklas, Melanie, Mike and Jörg attended the Austrian Chemietage 2017 in September in Salzburg, Austria.
Guest student from Serbia
28.02.2017 Krapfen Tasting
On the occasion of the carneval season, and to answer the presing question, who makes the best Krapfen, we decided to do a highly scientific Krapfen tasting. 13 different sources of Krapfen were sampled. Here are the top three:
1st place: Spar
2nd place: Hofer
3rd place: Billa