News
July 2023
Thomas Lindsay, who did his Master thesis with us in Graz about mercury adsorption on pipeline steel graduated with a 1st class MChem at University of Aberdeen, Scotland and he received a Price for the best Master thesis of the year and he received the prestigious Center Medal for the best student of the year in Chemistry. Congratulations Tom and good luck with your PhD at Aberdeen.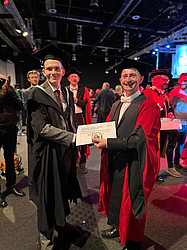 Publications:
Lhiam has published a ground breaking paper on fundamentals how mercury adsorbs on pipeline steel. The mercury concentration is so high that it might have a significant impact on the mercury budget in the North Sea if all pipelines are decommissioned and left in the sea.
June 2023
Conferences
Graz had centre stage at 54th DGMS Conference (Deutsche Gesellschaft für Massenspektrometrie) in Dortmund. David gave an invited lecture (title: Facets of Elemental Mass Spectrometry as Tools for the Characterisation of Structures on the Nano- and Microscale) while Jörg gave a plenary (ICP-MS as a contributing tool to non-target screening in environmental monitoring).
And during the conference dinner at the BVB Football Stadium VIP Lounge, Jörg was put in the cell, from which he could escape later….
The conference report and the pictures are here: https://dgms.eu/de/bericht-54-dgms-tagung-dortmund/
Jörg gave an invited lecture "Novel analytical chemistry of organofluorines in complex matrices: an overview with environmental case studies" at the 7th Fluorine Days in Poznan, Poland – an international conference about fluorine chemistry at which novel organofluorine compounds, their synthesis and their application have been discussed. Very little environmental issues and hardly any analytical chemistry was discussed at this conference and that is why some heated discussion followed Jörg lecture with industrial and academic contributors.. Interesting!
One communication about arsenic-free drinking water in Bangladesh was given in which TESLA collaborated with University of Cambridge (UK), ULCA (US) and the icddr,b (Bangladesh) entitled "The impact of providing arsenic contamination-free drinking water and simultaneous alteration in different socio-economic variables in a highly arsenic-prone area in Bangladesh" in The Global Health Network Connection.
Raquel just came back from the III Workshop on Inorganic Mass Spectrometry (III-WIMS) held in Rio Claro, Brazil. She gave an invited lecture on the development and application of new methodologies based on mass spectrometry detection, with emphasis in nanotechnology and bioimaging techniques.
Publications:
Sa'a has published the findings from her PhD about the contamination of farmland (corn and soil) in the vicinity of the largest cement factory in Nigeria. Our findings provide the first health hazard assessment from the consumption of corn cultivated in the vicinity of a large cement-manufacturing plant. Chromium and lead levels were elevated. Congratulations Sa'a well done. Sa'a is now working in the environmental agency in Nigeria.
May 2023
Publications:
The iodine content of various plant-based milk substitutes commercially available in the UK was determined and compared with the recommended iodine intake. The results clearly showed that iodine deficiency, which causes health problems, can occur with the exclusive consumption of these products.
conference:
From 11.-12.5.2023, the Montanuniversität Leoben with Stefan Wagner as Chair and Simone Trimmel as Co-Chair with the support of ASAC hosted the 18th Young Analysts' Forum 2023 ("JA*F2023"). The Analytical Department of the University of Graz was represented by Marc Preihs with a poster presentation on the determination of arsenic in rice with the help of cola and Martin Walenta with a lecture on the discovery of a new arsenic species in fungi. At the end of the conference, a selected jury deliberated on the lectures and posters in order to award prizes to the best poster and the two best presentations. Out of a total of 20 posters presented, Marc Preihs emerged as the winner and Martin Walenta won 1st place out of the 22 lectures. Both were presented with an ICP-MS cone with engraving as a medal as well as a sponsored book voucher for Springer Verlag from "Analytical and Bioanalytical Chemistry". We congratulate the two winners on their victory.
April 2023
Some news messages about the oldest environmental clean up world-wide in Aberdeenshire, Scotland: https://aberdeen.altmetric.com/details/140494024/news
Publications:
Jules has published a Market Survey in Austria of arsenic, cadmium and lead in rice. The rice on the Austrian market showed that there are significant geographical differences in arsenic in rice and also significant differences in arsenic concentration in rice and rice products for the general public compared to products destined to babies and toddlers. The rice from Austria is the rice with the lowest arsenic level. But the most important fact is that almost all rice products are below the 2016 introduced EU maximum levels of inorganic arsenic in rice.
March 2023
Tengetile Nxumalo (Ngeti) has past successfully her PhD viva, congratulations. The title of her PhD thesis is "ORGANOFLUORINE COMPOUNDS IN THE ENVIRONMENT" and she studied the use of ICPMS/MS and HR GFMAS in addition to LC-HRMS and LC-MS/MS for PFAS mainly in food contact material, sewage sludge, biodegradation and landfill leachates.
Ngeti from Eswatini works now at Janssen United States Pharmaceuticals in South Carolina. We wish her all the best for her future in the US.
February 2023
Conferences:
Analytical Chemistry was very active at the European Winter Conference on Plasmachemistry 2023 in Ljubljana, Slovenia. While David and Jörg gave invited keynote lectures, Simone gave a seminar for Agilent and an oral presentation. Andrea, Raquel and Viktoria gave 4 poster presentations. From the overall 260 posters Viktoria won one of the two student poster awards. Congratulations.
Publications:
Bassam shows in his newest publication, that sulfur speciation at ultra-trace levels with HPLC-ICPMS/MS is possible in a human biofluid with highly complex sulfur metabolome. This was achieved with a derivatization approach which enabled the separation of the hydrogen sulfide biomarker thiosulfate from the structurally related sulfate present at concentrations more than four orders of magnitudes higher as well as from many other major sulfur metabolites.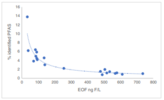 January 2023
Publications:
Ngeti, Abdullah and Viktoria published together with the Meermann Group at BAM Berlin a new paper about PFAS in rivers and canals in Berlin. It is suspected that the source of the PFAS are the sewage treatment plant outfalls. Target LC-MS/MS give however less than 10% of the entire organofluorines in the water which was determined by using HR GF-MAS as CaF. Congratulations to all authors.
December 2022
Magdalena was awarded one of the Bioarchäologische Gesellschaft (Austrian society for Bioarchaeology) dissertation prizes!
Publications:
Cadmium is accumulated to a high degree by some mushrooms, esp. Thelephora penicillate (a ectomycorrhizal fungus) enriches high quantities of this and other elements. Cadmium in the fruiting body of this inedible mushroom is present in different species.
Angstone has published another paper about the use of zerovalent iron use for rice and its impact on cobalt and lead accumulation
TESLA has continue to work in Geochemistry with John Parnell at Uni Aberdeen and two papers have now been published:
Ken & Joerg have published his paper from his postdoc time about Speciation of trace elements in the Bowland Shale. It appears in Geological Society Special Publication (2023) 538,1, SP534-2020-195
David, Raquel and Joerg have published a paper about trace element geochemistry in the earliest terrestrial ecosystem, the Rhynie Chert, Scotland. This is published in Geochemistry, Geophysics, Geosystems (2022).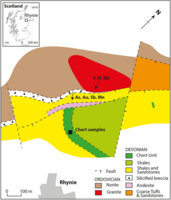 November 2022
Sieglinde Zelzer celebrated her doctorate on 7 December. She dealt with vitamin D in her dissertation "Development of new LC-MS/MS methods for the determination of different vitamin D metabolites in human and environmental samples". She did her research from 2018 to 2022 in the ACHE working group alongside her work. A great achievement. Congratulations!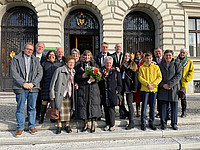 October 2022
Publications:
New Publication in Analytical and Bioanalytical Chemistry. In collaboration with scientists of the University of Technology Sydney in Australia, Raquel (TESLA) and David (nμLab) published a novel automated and miniaturised reactor for the extraction and accelerated digestion of proteins in complex matrices such as serum.
Martin, Nan and Camilla defended successfully their PhD research and passed their Vivas at the University of Aberdeen. Martin's research area was mercury and its interactions with organic solvents, arsenic and arsenic speciation were the subjects of Nan's and Camilla's research. Congratulations to all three of them.
Publications:
Angstone's Study of metal contamination in rice paddy soils in Malawi is now online.
Conferences:
TESLA was very successful at the largest conference for Analytical Chemistry in South America. Jörg gave the opening plenary in front on more than 800 participants at the 20th Brazilian Meeting for Analytical Chemistry (ENQA) in Bento Goncalves. And Cicero (Guest researcher at Graz last year) won the best poster award from more than 200 poster for his contribution "Studying the effect of arsenic on the metabolism of unicellular algae (C.reinhardii) in collaboration with the Bioscience Institute in Graz. Congratulations…
August 2022
Publications:
In some rice samples from America, an unusual arsenic compound was identified: the dimethylarsonyldimethylarsinic acid, one of the few known compounds containing several arsenic atoms per molecule.